The Software Solution for Legally Secure E-mail Archiving
With REDDOXX MailDepot users just have to click on the mouse twice to access any e-mail. The powerful, full text indexed system searches your e-mail archive in seconds along with all text oriented attachments (e.g. Word or PDF).
The time consuming sorting and organizing of the e-mails in the mailbox is now redundant. All e-mails are stored automatically and permanently in an archive that is autonomous from the mail servicer. The MailDepot is obviously in compliance with all statutory requirements, which have been in effect and binding for many years.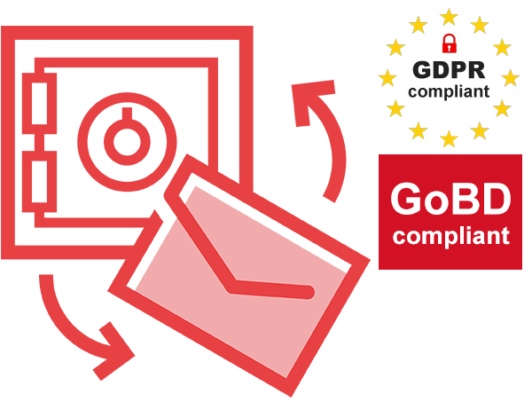 All functions at a glance
GDPR & GoBD compliant: Legally secure and revision proof archiving of all e-mails
Maximum ease of use
Long-term, sustainable archiving
Definitive allocation and identification of e-mails that have to be retained as a matter of law
Connection to existing document management systems possible
Immediately and sustainable relieves your IT infrastructure
User friendly operation thanks to integration into Microsoft® Outlook / web browser access and smartphone (iOS / Android)
Retroactive archiving of existing archives possible
External storage of archived data possible
Compliance- & statute compliant solution
Double check (four-eye principle) audits possible
Compliance product
Automatic replication from the active directory (MS Exchange 2003/2007/2010/2013/2016)
User has the option to award stand-in privileges
Rule based assignment of stand-in rights with group functions (e.g. to give the entire department access)
Automatic generation of special archives with group or user specific access privileges
Audit function based on the double-checking (four-eye) principle
Auditor access with access log that can be analyzed
Four-eye principle auditor access safeguards
Content-dependent audit for audit-oriented access
Offline audit (without the appliance), suitable for third party audits
Revision proof logging (compliance log)
Data privacy compliant handling of sensible data can be set up (compliance framework)
Manipulation proof archiving periods can be set up
Binding documentation of receipt and send times
Revision proof and encrypted archiving
Rule based archive exemptions (sender, recipients, subject, size)
Full text search in e-mails and all annex copy
Combined search
Quick selection of search fields and field combinations
Depiction of content is identical with the original (HTML/RTF/Text)
Direct further processing in MS Outlook® (add-in required)
Stand-in functions
Search result with depiction of the e-mail progression
Identification of inbound and outbound e-mails in the search result
Depiction of content is identical with the original (HTML/RTF/Text)
Multiple operations in the search result via context menu, e.g. delivery, forward/open
E-mail history with binding time stamps
Data lifecycle management funktions
Hierarchical archive storage management
Separate archiving of large e-mails in alternative storage systems
Sealing of archive containers (read only)
Content dependent relocation & copying of archived e-mails
Content dependent handover of archived e-mails incl meta data to DMS/CRM, etc.
Continuous back-up (data mirroring)
Self-supporting archive, search index and access rights are located in the archive container
No size limits
Full text index of the all e-mail content plus all annexes with text content deduplication / single instancing; each e-mail is stored only once per archive
Real time compression during storage (ZIP algorithm)
Encrypted data storage
Additional signing when e-mail is saved (revision proof)
Addition encryption (AES) possible with an individual password
Offline use of archives search, read and export possible without the appliance
Archiving of all meta data and time stamps
Random choice of chunk sizes (maximum size of data files for splitting to start)
Multiple archives
Hierarchical storage management
Individual retention times can be set up for each archive
MS Outlook® 2003 and newer (add-in required)
MS-Exchange ® 2003 to2016
Lotus Notes (V 8.5 or higher)
Office 365
IMAP / POP3
MS Outlook Archive (PST-Dateien)
Novell GroupWise Version 8.4 and newer
Tobit David V 8.0 or higher
Integrated virus protection for all inbound and outbound e-mails
Virus filtering of Office documents with macros is possible
Encryption of outbound e-mails via password
High availability features
Hot-standby cluster (optional module)
SNMP monitoring
Health control
Alert-Notification
Self healing (Watchdog)
Automatic monitoring of storage availability and speed
Autom. interim storage of archive data in the event of storage loss
Outlook integration (add-In)
Web interface
Windows program
iPhone / iPad App
Android Phone / Tablet App
User management & directory services
Local database
Active directory
Open LDAP
Lotus Notes
Novell NetWare (E-Directory)
Automatic synchronization of
e-mail accounts from directory services
MS-Exchange ® 2003 through 2016
Lotus Notes (V 8.5 or higher)
OX – Open Xchange
Postfix
Office 365
Hosted Exchange ®
Tobit David V 8.0 or higher
Kerio
Kolab
Novell GroupWise 8.4 and newer
Support many other mail servers
iSCSI native
NFS / CIFS
Logical V-Disk (only virtual appliance)
Multiple storage
Hierarchical storage management
All of the above-mentioned brands are the property of the respective owners; no liability for changes or errors assumed.
Reap the benefits of REDDOXX cloud services
These days, many companies and organizations rely on cloud computing. The use of solutions as cloud services offers numerous advantages: It relieves the organization's own infrastructure, offers maximum flexibility and transparent cost models. Together with strong partners, REDDOXX offers a package of optimum solutions that will enable you to use the functions of legally secure e-mail archiving and/or anti-spam in the form of cloud services.
Proven REDDOXX Technology
REDDOXX cloud services are based on mature products that have proven practical track records – MailDepot (archiving) and Spamfinder (anti-spam). Customers have the advantage of being able to use the respective service productively right away without having to modify their IT environment. Fees are billed transparently and fairly on the basis of a monthly per user fee. This means: Complete cost control and no initial investment!
All updates, upgrades or software services are handled centrally by REDDOXX. Consequently, the solutions will always be up-to-date. REDDOXX cloud-based solutions are an attractive alternative to the use of conventional hardware dependent or virtual appliance options and can be set up very quickly.
The Benefits of REDDOXX Cloud Services
Use of the familiar REDDOXX technology, which has a proven track record from thousands of actual installations, as a service
User-based billing
Significant IT infrastructure relief
Available for instant productive use
Revision proof e-mail archiving with powerful full text research
Legal mandate oriented solution
Fully automated backup of inbound and outbound e-mails
Powerful spam protection thanks to the patented CISS process (sender verification)
Additional cloud-based solutions are already on the horizon! Are you interested in the REDDOXX cloud solutions? We will be happy to consult you personally on the use of our solutions whenever it is convenient for you!
The new European GDPR ('General Data Protection Regulation') is now in effect
What this means for you and why the GDPR is also relevant for your enterprise, the certified data protection officer, Jürgen Dagutat, explains in a short paper on the subject matter (currently only available in German).
Stay autonomous from the e-mail server type used
This solution works independently from the type of e-mail server used. It also supports any type of storage and is therefore very easy to integrate into any existing infrastructure. Thanks for full text indexing, any archived e-mail can be promptly found later and recovered with just a click on the mouse.
One of REDDOXX's unique hallmarks is its secure and user-friendly e-mail archiving solution: The REDDOXX MailDepot. The first priority is a long-term archiving solution that is sustainable thanks to its certification and the utilization of common market standards. Your investment is secure.
Alexander Bauer
Development
To this day legally secure archiving of e-mail communications is still an unresolved challenge in many companies
Discover REDDOXX
With REDDOXX MailDepot you will have at your disposal proven solution for your e-mail archiving and management needs that does not only provide legal certainty, but also offers numerous other added valuable features. Your e-mail infrastructure will enjoy massive relief and all of your e-mail handling tasks will be significantly simplified. Once implemented, REDDOXX MailDepot archives all inbound and outbound e-mails fully automatically.
← Click on the video to find out more
Allocate e-mails that have to be retained as a matter of law
One of the unique features of the  REDDOXX solution for e-mail archiving and management is that it clearly allocates and identifies e-mails that have to be retained as a matter of law. It can also be connected to existing DMS (document management systems) and allows the retroactive archiving of existing mailboxes.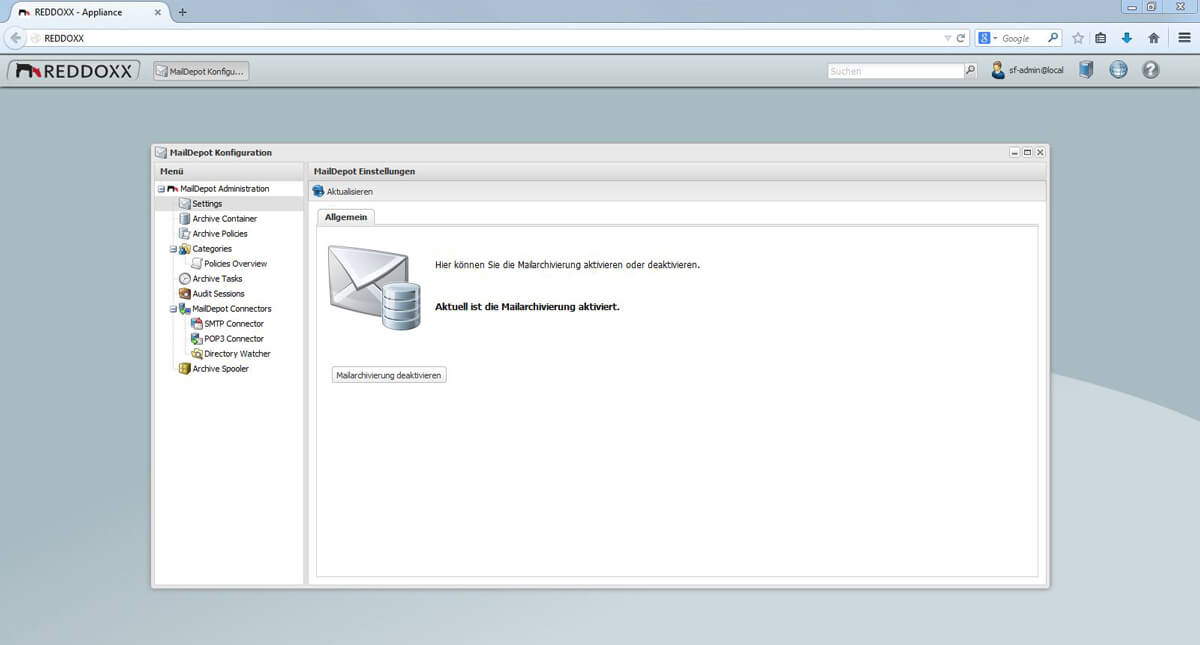 Other benefits
is also important for the observance of compliance and data retention policies that auditing by way of the double-checking (four-eye) principle is possible.
Other key benefits and highlights are the user-friendly operation thanks to the integration into Microsoft® Outlook, as well as the optional access via web browser or smartphone APPs (iOS / Android). The multiple storage support tool is key for system administrators and staff in charge of the IT infrastructure. The same is true for the option of saving archived data in external storage solutions.
user view – web interface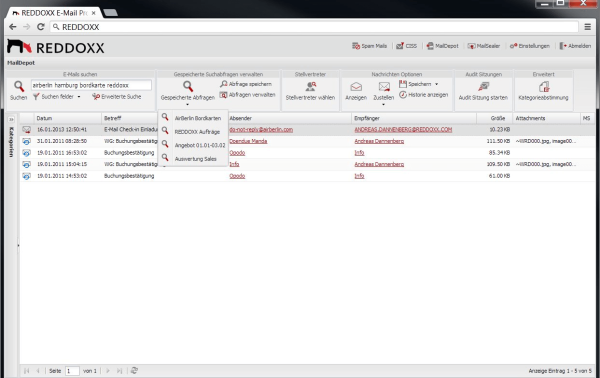 The web interface makes it easy to use the REDDOXX MailDepots in conjunction with a browser. Only Internet access is needed to view the mail archive. The solution supports all commonly used browsers.
One of the key strengths of REDDOXX MailDepot is its integrated search. Users have the option to use the full text search tool and an expanded search based on a variety of criteria.
Various search options facilitate the performance of research in the e-mail archive. For instance, REDDOXX MailDepot allows users to create and search based on categories. This makes it very easy to find a large number of e-mails.
REDDOXX MailDepot archives all inbound and outbound e-mails effectively and in such a manner that they can be found whenever needed; even retroactively if desired. All REDDOXX MailDepot activities are of course document so that they can be reviewed later.
user view – Outlook ® add-in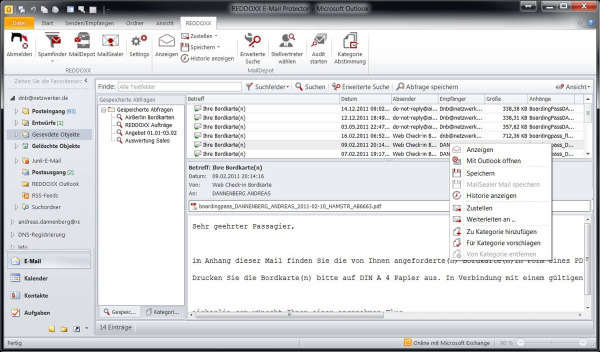 The new REDDOXX Outlook ®-add-in expands the familiar Microsoft Outlook interface by adding the intelligent MailDepot functions. Besides expeditious search functions, the add-in also offers direct further processing options for e-mails in Outlook. The integrated preview function and the chronological tree view give users the essential transparency across all e-mail transactions. The REDDOXX Outlook® add-in can be used in conjunction with Outlook® 2010 through 2016 and has been optimized for the respective versions.
REDDOXX MailDepot for iOS (iPad and iPhone) as well as Android takes intelligent e-mail-archiving into the mobile world. While the e-mail client has the capability to display only a limited number of e-mails, the mobile REDDOXX user always has access to all archived e-mails also on smartphones and tablets.
Three-in-one simplicity – the REDDOXX Suite
Archiving, anti-spam and encryption working together in a single solution
Boasting thousands of successful implementations, this is the tried & tested complete solution for businesses that want it all.
For 5 ‑ 50,000 e-mail accounts – if you want an absolutely secure solution!
Optimized backup and recovery
Retroactive e-mail archiving
Improved e-mail management and more centralized corporate knowledge
.
Pricing examples
available for any company size and number of users

Boasting thousands of successful implementations, this is the complete solution for businesses that want it all.
For 5 ‑ 50,000 e-mail accounts – if you want an absolutely secure solution!
Flexibly combine your desired solutions such as MailDepot and Spamfinder and only buy what you really need.
Number of Users
E-Mail Archiving
(incl. 12 months subscription)
E-Mail Archiving
(incl. 36 months subscription)
E-Mail Archiving and Anti-Spam
(incl. 36 months subscription)
Annual renewal of subscription after expiration
(12 months)
10
starts from 1.330,00€ *
starts from 1.770,00€ *
starts from 1.870,00€ *
340,00€
50
starts from 1.930,00€ *
starts from 2.370,00€ *
starts from 2.570,00€ *
340,00€
100
starts from 3.590,00€ *
starts from 4.580,00€ *
starts from 5.580,00€ *
700,00€
1000
15.940,00€ *
19.380,00€ *
20.280,00€ *
2.450,00€
5000
36.960,00€ *
49.690,00€ *
53.430,00€ *
5.900,00€
*one-time fee

Note: These prices are just examples.
Compile your personal quotation customized for the size of your company now on the
My REDDOXX customer portal or simply call our sales team for a consultation.